For Magical Themed Kids Parties and Children's Entertainment
CHILDREN'S ENTERTAINERS FOR YOUR KIDS PARTY IN:
Brighton, Hove & Sussex; Bristol, Bath & Somerset; Gloucester and South Gloucestershire; Swindon, Salisbury & Wiltshire; Newport & Cardiff; Guildford & Surrey; Croydon & South London
Tel: 0777 922 0729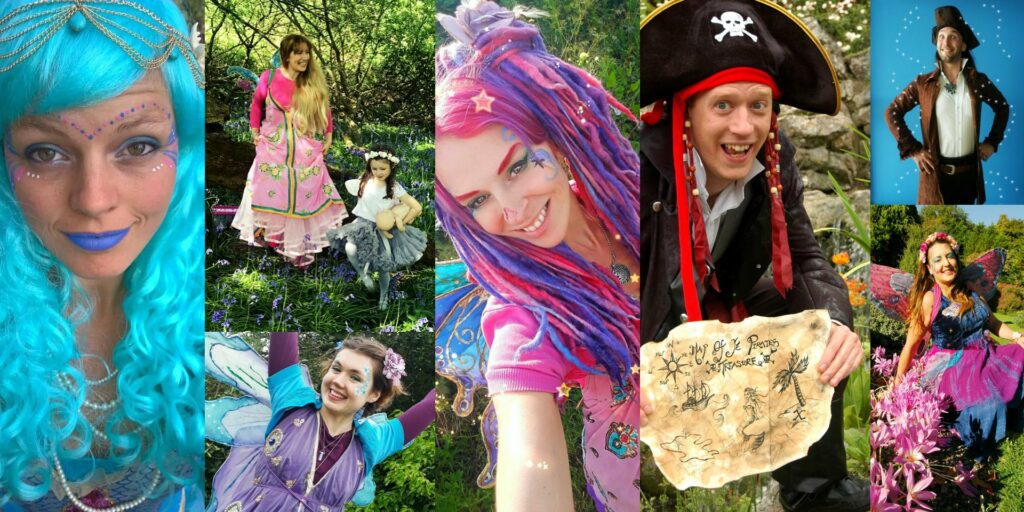 Our Magical Party Themes Include:
⭐ Fairy And Pixie ⭐ Pirate Parties ⭐ Mermaid Parties ⭐ Knights and Princesses ⭐ The Faery Queen's Tea Party ⭐ And our NEW Unicorn Extras
We cater for boys and girls aged from 3 – 9 years, at birthdays, weddings, christenings, festivals and corporate events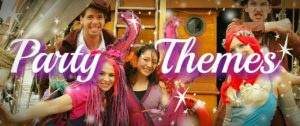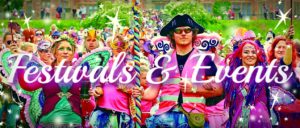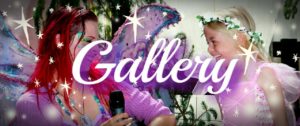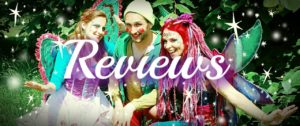 Fairy Special Party Extras:
Unicorn Extra Addition:
Add a unicorn upgrade to your Fairy, Mermaid or Pirate party package. This extra features unicorn opening story, unicorn themed charm brackets for each guest hidden inside the pass-the-parcel and a special ride on unicorn (pictured) for the birthday child to borrow for the crowning parade.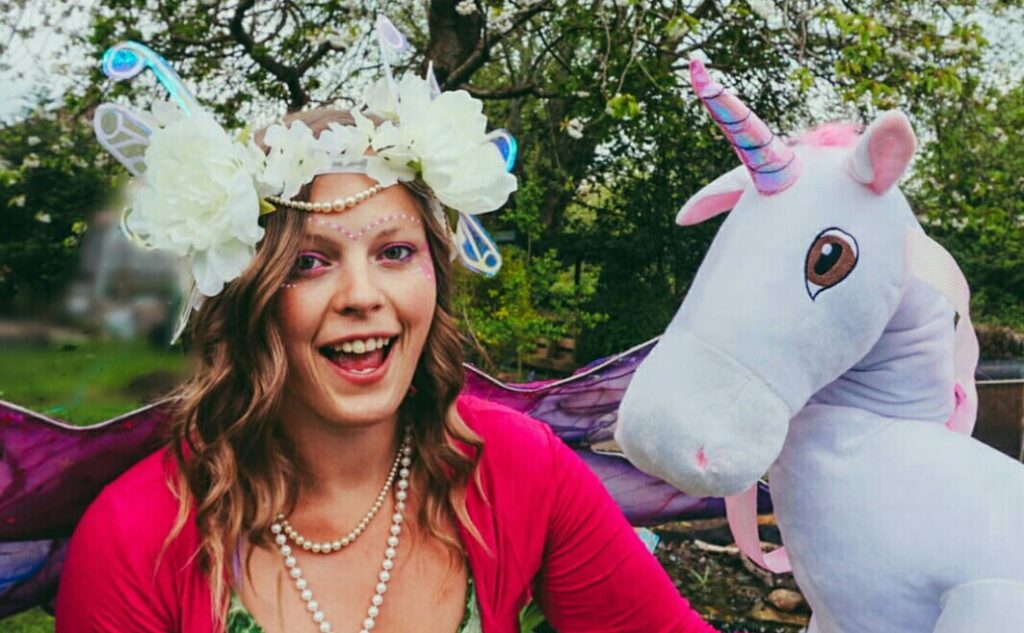 Glitter Tattoos:
Our glitter tattoos are applied with a background colour and a touch of face paint to make them look more professional. A glitter tattoo extra with make your party booking 1 hour longer.

Recent Children's Party Reviews
Wow, I just wanted to send you an email to say how amazing Redsea Ruby, our entertainer, was at Wilf's party on Sunday.
From the moment she walked in she was in character and Wilf's face was an absolute picture! She entertained the children from start to finish, even kept them amused whilst eating. She controlled all the children even the most confident ones! There were so many laughs and even the parents were amused! I've had so many compliments from the parents ever since, saying how great the party was; and how nice it was to do something different.
Can't thank you enough and hope to use your company in the future.
Thank you so much for making the party so special for Wilf he even wants a pirate themed bedroom now!!
Lydia Ball, Yeovil, May 15th, 2022
I just want to say how much my daughter and her friends loved having Marina Mermaid to the party! They are still talking about her today and can't believe she put on her legs to get here! My daughter's reaction first seeing Marina was beautiful, just hugging her in the doorway! She was a brilliant Entertainer, she involved all the children and was so sweet and also just a burst of energy! Loved all the games, really special and unique. We'd definitely use you again in the future.
Kate Wilkinson, Saltdean, May 8th, 2022
Please will you say a HUGE thank you to Saffire Mermaid. She was amazing and so good at keeping the children engaged despite one or two slightly exuberant and distracted ones!!
Milly Bowring, Aldsworth, May 6th 2022
The party was wonderful, thank you so much. Firelight Fairy was absolutely brilliant. She engaged with Honor straightaway and the kids all loved her. Loads of the adults said how impressed they were with the way she held the room for the whole time. I hadn't realised but the acoustic is quite difficult in the hall – the sound just seemed to echo, but she made herself heard above the kids throughout and held their energy really well.
She was just brilliant, knowing when and how to calm them down and when to up the tempo. Honor fully believes in fairies and magic now! It was also great that Firelight left before the end which gave us a chance to give out the party bags and provided an important signal that it was the end of the party. I just loved how she explained that she had to shrink down again but she was really doing it so she could get away without being seen.
The whole thing was absolutely fab and I would definitely recommend her.
Jen Collins, Meare, April 24th, 2022
Felicity Fairy Children's Parties
***Winners Of KalliKids Best Party/Entertainer 2015***
Felicity Fairy Has A Children's Entertainer In: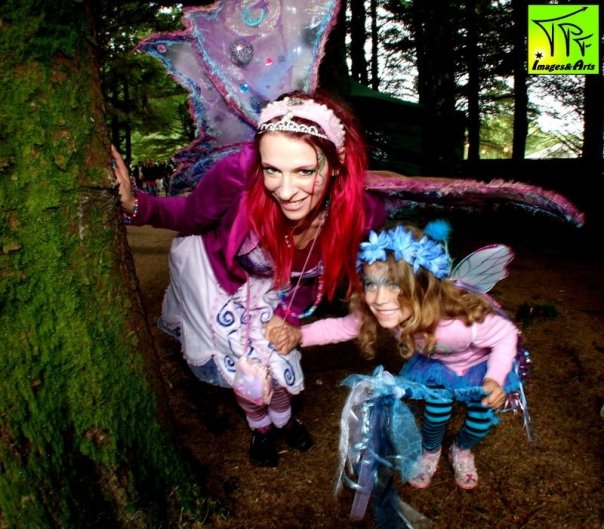 Felicity Fairy and Friends has a Children's Entertainer in Brighton, Childrens Entertainer in Worthing, Childrens Entertainer Shoreham, Childrens Entertainer Southwick, Childrens Entertainer Haywards Heath, Childrens Entertainer Burgess Hill, Childrens Entertainer Lewes, Childrens Entertainer Hove, Childrens Entertainer Crawley, Childrens Entertainer Eastbourne, Childrens Entertainer Horsham, Childrens Entertainer Sussex, Childrens Entertainer East West Grinstead, Childrens Entertainer Croydon, Knights and Princesses Party Bristol, Knights and Princesses Party Sussex, Knights and Princesses Party Brighton, Knights and Princesses Party Beeding, Knights and Princesses Party Southampton, Knights and Princesses Party Surrey, Knights of the Round Table, Childrens Entertainer Uckfield, Childrens Entertainer Cuckfield, Kids Parties Brighton, Kids Parties Bristol, Girls Unicorn Birthday Party, Kids Birthday Bath, Kids Parties Frome, Kids Birthday Taunton, Kids Parties Bridgwater, Kids Parties Glastonbury, Kids Parties Swindon, Kids Parties Gloucester, Kids Parties Gloucestershire, Kids Parties Wilts, Kids Parties Wiltshire, Kids Parties Yeovil, Kids Parties Wells, Kids Parties Somerton, Fairy Birthday Brighton, Pirate Birthday Brighton, Mermaid Birthday Brighton, Fairy Birthday Sussex, Pirate Party Sussex, Mermaid Party Sussex, Fairy Party Bristol, Pirate Party Bristol, Mermaid Party Bristol, children's birthday Western-Super-Mare, children's birthday Yeovil, children's birthday Chippenham, children's party Weymouth,Brighton, Sussex, Surrey, London – Croydon, Bournemouth, Dorset, Bath, Bristol, Somerset, Wiltshire, Gloucestershire, children's party Hove, girl's party Cardiff, Mermaid Party Hove, kids party Wales, children's entertainer Cardiff, girls party Polegate, boys party Worthing, children's entertainer Portishead, Pirate Party Haywards Heath, Mermaid Party Wimbourne, kids party Surrey, Fairy party Surrey, Pirate Party Surrey, childrens birthday woking, kids party Guildford, kids entertainer Woking, children's entertainer Surrey. kids parties Brighton, monster and Halloween party Brighton, Monster and halloween party Hove, Children's entertainer in Tunbridge Wells, Children's party entertainer in Hassocks, Haywards Heath. Knights and Princesses parties Brighton, Bristol, Bournemouth, Christchurch, Newport, Cardiff, Nailsea, Knight and Princess Parties Somerset, Glastonbury, Chew Stoke, Chew Magna, Medieval Knight Parties with Dragon for kids. Children's princess party entertainment Hurstpierpoint, Children's party entertainer Ditchling, Sussex. – Children's party entertainer Heathfield, Children's party entertainer Crowborough, Children's entertainer Seaford and Peacehaven, Children's party entertainer Littlehampton – Children's party entertainer Ringmer, East Sussex, Children's fairy parties Surrey, Children's party entertainer Bexhill, East Sussex, Kids party entertainer Hastings, Children's parties for girls in East Sussex Children's parties for girls in Worthing, West Sussex – Children's parties for girls in Crawley – Girl's party entertainer Croydon and South London, Princess parties Uckfield, East Sussex, Pirate party Brighton, Pirate party entertainer Brighton, East Sussex, Magical themed parties in Horsham, Superhero party shows in Worthing, West Sussex -Children's party entertainer Royal Tunbridge Wells – Not Disney parties Brighton, East Sussex, Not Disney parties in Worthing, West Sussex – Kid's entertainer Somerset, Children's entertainer Brigwater, Children's party entertainer Taunton – Children's party entertainer Bognor Regis, Children's party entertainer Chichester, Children's party entertainer Arundel, Children's party entertainer Aldwick, Children's party entertainer Pulborogh, Children's party entertainer Petworth, Alice in Wonderland Party Brighton, Hove, Worthing, Lewes, Sussex, Alice In Wonderland Party Farnham, Farnbourough, Guildford, Woking, East Croydon Croydon, West Croydon, Alice In Wonderland Party Bristol, Bath, Nailsea, Curry, Somerton, Taunton, Bridgwater, Glastonbury, Wells, Somerset, Swindon, Gloucester, Chippenham