Join our Brighton and Sussex Entertainers in a themed, Adventure Storyline Party, for your imaginative child! At Felicity Fairy Parties; Fairies, Pirates, Mermaids and Monster characters are all played by professional actors and teachers.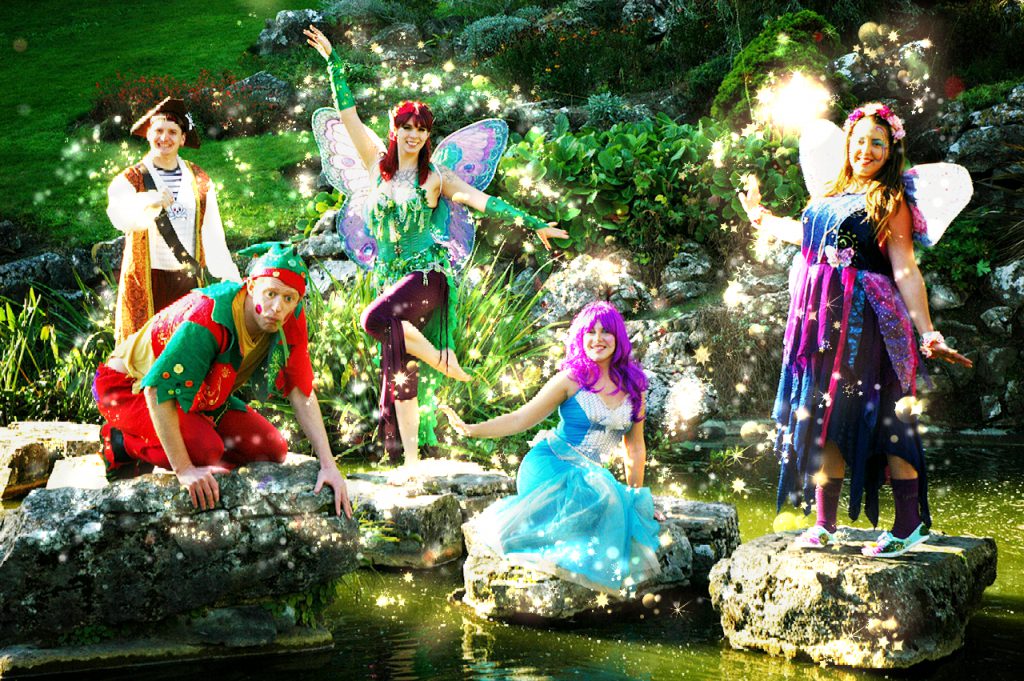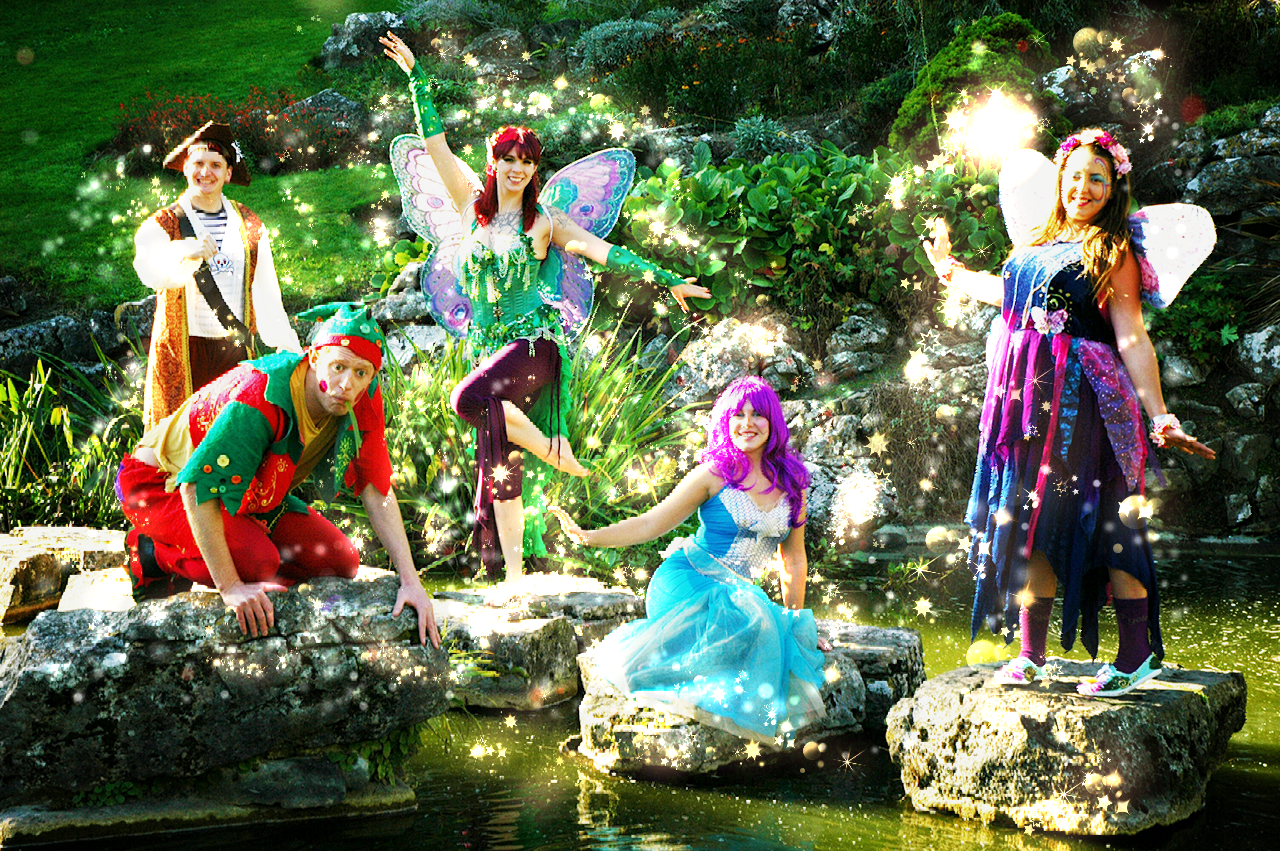 OUR PROFESSIONAL ENTERTAINERS HOST KIDS PARTIES IN:
Brighton, Hove, Portslade, Shoreham, Lewes, Ringer, Petworth, Little Hampton, Arundel, Chichester, Horsham, Crawley, Upper and Lower Beeding, Polegate, Rottingdean, Saltdean, Eastbourne, Uckfield, Rye, Hastings and East & West Sussex.
Tel: 0777 922 0729
In the Brighton, Hove and Sussex area our full range of
children's party plans, wedding entertainment and festival shows are available including:
***Pirate, Mermaid and Nautical Themes***
***Our Deluxe Party Plan – Alice In Wonderland***
And our ***NEW***Party Plan – Knights and Princesses

Meet Your Local Entertainers – Angelina Sparkle Fairy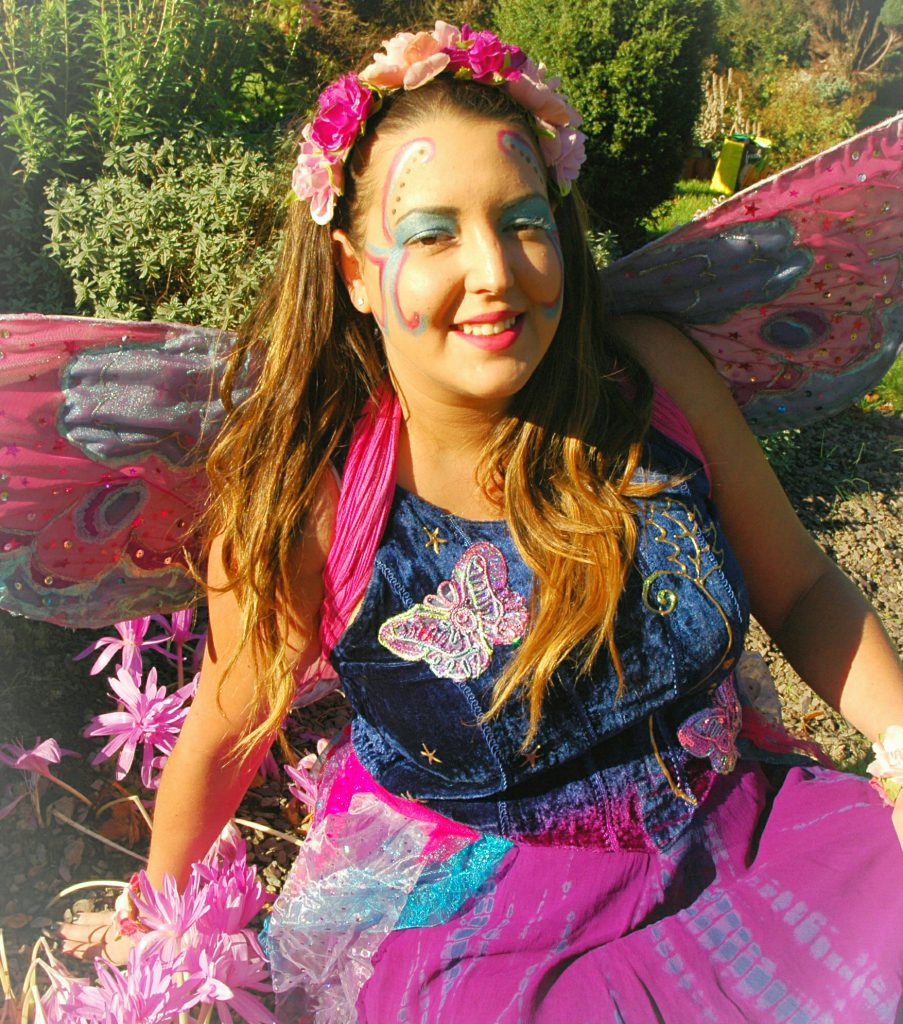 Our glittery Angelina Sparkle lives in a little pink house made out of candy and decorated with all types of delicious sweeties like smarties and jelly tots. Her house sits in a special part of Fairyland, just on the edge of Brighton.
Angelina Sparkle is the Fairies special ballgown and fashion designer and says " I love to make sparkly dresses for all my fairy friends to wear to fairy birthday parties and in fact I made this one that I am wearing myself. I love all things pink and I love to play fun games."
Angelina used to teach children in a far-away magical place called Thailand and but she is very excited to now be visiting People-land Sussex!
Captain Barty Barnacle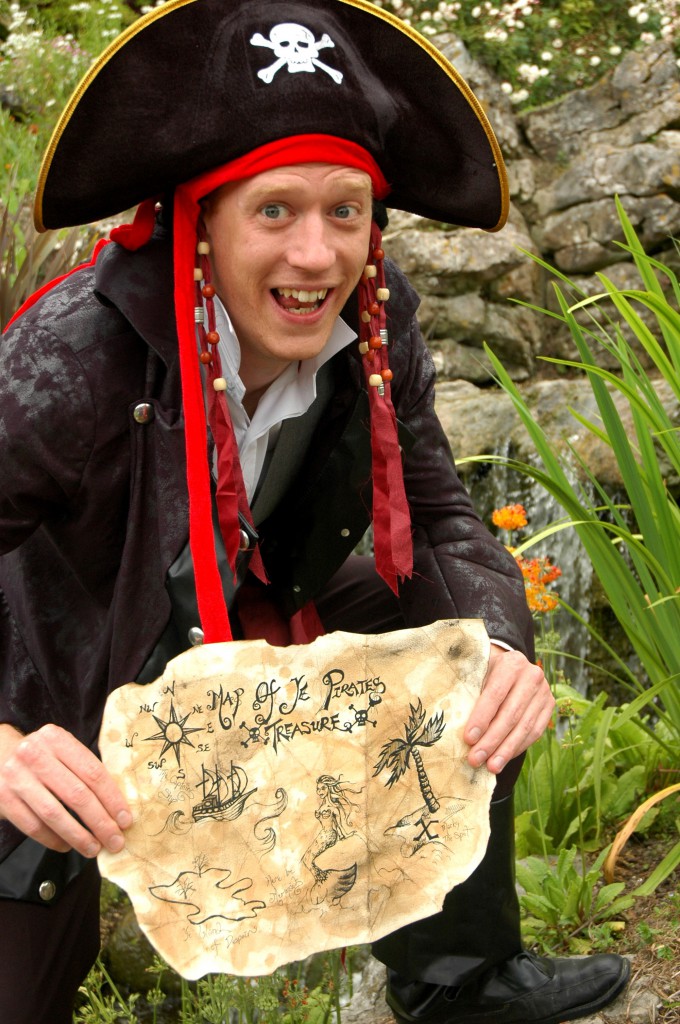 "I live on board my ship the blue seahorse which is anchored just off shore of never never land. The ship can go under water when I want to visit my mermaid friends – and glows like a star at night to help fairies navigate if they're lost."
Captain Barty Barnacle often goes to People-Land Sussex to visit children at their birthday parties – but he gets a bit confused "How can you use a plastic cards to pay for things, when I use pieces of gold and silver??" he says.
"Besides from Carrot the Parrot my best animal friend is Oscar the octopus – I accidentally caught him in my fishing net when he was a baby – now he's all grown up and the same size as my ship. With his eight tentacles we play a game of catch the sea urchin where he throws eight sea urchins at a time and I have to see how many I can catch" he says.
Tiger Lily Fairy
Flower Fairies help the flowers to bloom and Weather Fairies bring rain and sun so all the trees can grow. In Fairyland, Tiger Lily's role is as the keeper of small animals. "My best friends are Squidge the Squirrel and Turnip the Toad. We travel together (I ride on Squidge's back) making sure all the animals have warm homes to sleep in. We also like to have adventures – that's how I found people-land! Now I visit children in Brighton, Hove and West Sussex for birthday parties!
Teaspoon the Pixie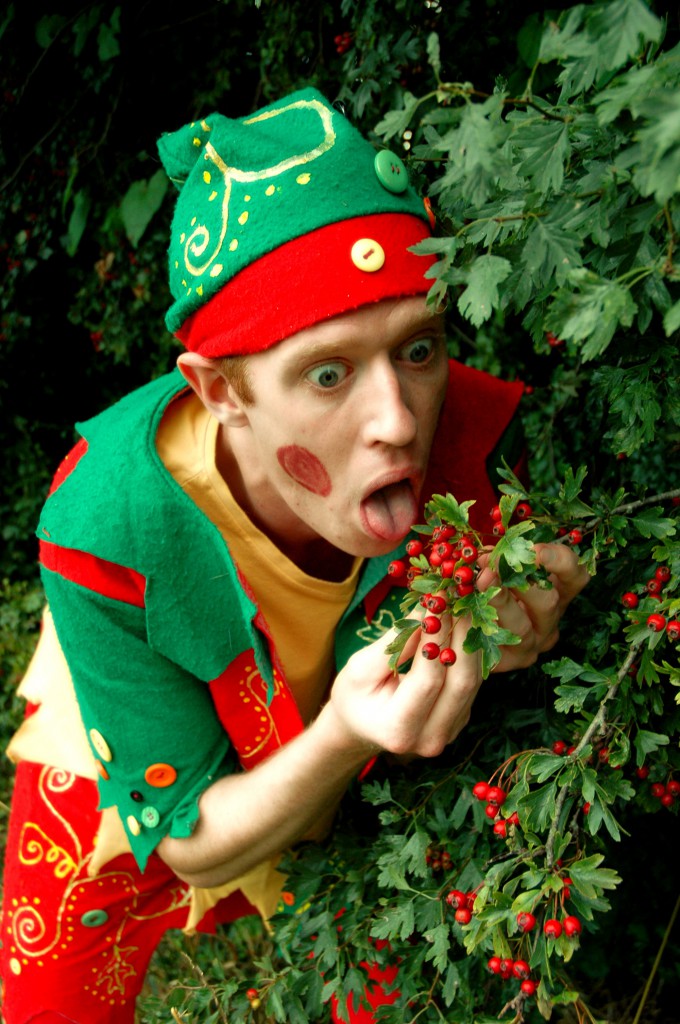 Teaspoon is a loveable but very silly Pixie! He lives aside a lake he likes to play the Wobbly Wobbly Lily Pad Game. The aim of the game is to see who can wobble the most on a lily pad without falling off- the last pixie standing wins!! When Teaspoon gets home from playing the Wobbly Wobby Lily Pad Game, he lives in a giant oak tree in the centre of Fairyland, it's a part of Fairyland that's not too far from Worthing and Hove!
"I have a pair of conkers which knock together like a door knock when someone calls for me. My windows are made out of tree sap so they appear tinted and inside is decorated with autumn leaves, moss and chipped tree bark." Teaspoon says.

Sabrina-Splash Mermaid
Deep down under the sea, in a beautiful castle made of sand, lives a magical Mermaid called Sabrina Splash. She likes to play hide and seek in the sea-grass with her friends, Parrot Fish and Aerial the Mermaid. When they become tired of swimming and hiding all day, they sit on the rocks and call out colours they remember from the rainbow, while looking at the coral around Sabrina's castle . When a fish of the right colour swims into Sabrina's garden the first personal to call out 'Fish Bingo' wins!
Sabrina heard her Fairy friend's were visiting children in People-land on their birthdays, so she used her magic under-sea mirror to call the Fairy Queen and ask for a magic spell to turn her tail into feet.
"I visit children all over Brighton, Hove and Sussex, and have managed to get the hang of this 'walking' thing you humans do. It's a strange feeling!"

Sapphire Mermaid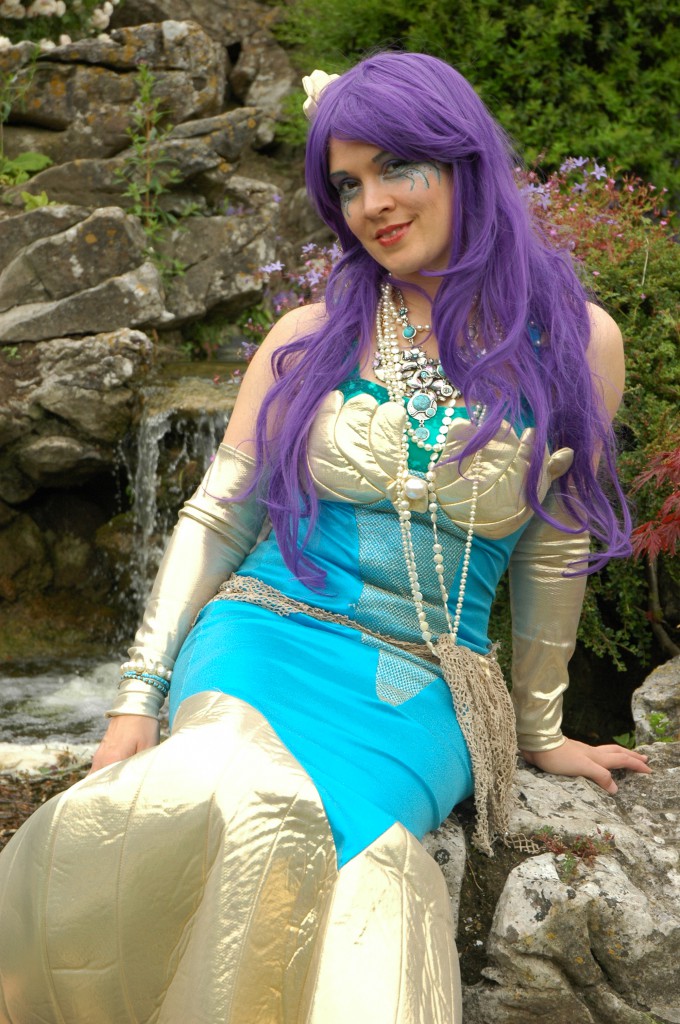 "Deep under the water I live in a beautiful under water garden with my mermaid sisters. There is a place where an underwater cave opens up onto land, which is where I meet my land-walking friends," says Sapphire.
"Sometimes I've got a bit of pixie dust, given to me now and then by Tinkerbell, and I can use that to give myself legs for a short amount of time. It's fun running and jumping and dancing with pirates and Lost Boys and Indians sometimes. But I'm always so happy to get back in the water."
Our magical Sapphire Mermaid's best friend is a real Pirate Captains! They sometimes carry her to the children's parties as her human feet don't work so well! That way she manages to visit children right across Sussex!
Vincent Von Blood
Vincent Von Blood lives near Transylvania High, where many of his Monster friends go to school. About his house he says "There is cave. It full of bats. Be careful of bats. They bitey."
Vincent has many hobbies. His favourite is turning into a bat and flying with other bats from cave. "I can do many loop-the-loop in sky. I love even better if there are thunders and the lightenings at this time." He also likes to fly in the rain.
Vincent's Halloween wardrobe is a bit different from yours at home in Sussex! His favourite fashion accessory is the cross he wears around hid neck. "It very cool but I try not look at it because if I see cross, I turn to smoke and not live no more."
Scarletta-Spots Lady Bird
Always glamorous with her bright red and black markings, Scarletta-Spots is one of the most stylish Monsters at Halloween. She was born when her mother, a cabaret dancer , fell in love with Spiderman. Her mother's favourite colours were red and black, and maybe because of this Scarletta grew up with Lady Bird powers. She is able to hypnotise almost anyone by opening and closing her beautiful spotted eyes, and smell a tasty caterpillar lunch from 2 miles away. She also is an excellent singer and dancer, and dreams of being a real pop star on stage in Brighton or London one day.
Ask Scarletta-Spots to teach you a dance routine when she comes to your party, and then perhaps you can snack on some juicy worms together. MMmmmmmm.
Tickles the Pixie
This is the loveable Tickles. He lives under a stone in the Enchanted Forest, which is not too far from magical Crawley! He says 'When I was born I climbed out of an acorn. I like acorns.' Tickles the Pixie is also very fond of a sport called bouncing. 'Bouncing is where a big Giant picks me up and throws me as far as he can. I can bounce very far.'
Afterwards Tickles has a snack of mud on toast. 'But I recently tried something amazing called Birthday Cake' says Tickles 'it was much nicer!' Tickles has previously been teaching English to foreign speaking children and enjoys disguising himself as a stand up comedian in Brighton, People-land.
We specialise in magical children's party entertainment and kids parties: East and West Sussex including Brighton, Hove, Shoreham-by-sea, Southwick, Lancing, Worthing, Portsmouth, Petersfield, Midhurst, Pulborough, Steyning, Sompting, Angmering, Henfield, Horsham, Crawley, Burgess Hill, Haywards Heath, Hassocks, Hurstpierpoint, Uckfield, Heathfield, Hailsham, Eastbourne, Polegate, Newhaven, Bexhill. Our professional children's cover all of East and West Sussex, Hampshire and South London.
<style="text-align: left;">Children's party entertainer Brighton, East Sussex – Children's party entertainer Worthing, West Sussex – Children's party entertainer Shoreham – Children's party entertainer Lewes – Children's party entertainer Burgess Hill – Children's party entertainer Haywards Heath – Children's party entertainer Beckenham, Kent – Children's entertainer Hove – Children's entertainer Crawley – Children's entertainer Horsham – Children's entertainer Sussex – The best children's party, party entertainment Brighton, Children's entertainer East Grinstead – Children's entertainer Croydon – Children's party entertainer South London – Children's party entertainer BN1.- Children's party entertainer Brighton.- Children's party entertainer Kent and Hampshire – Party Entertainer London – Children's party entertainer Hove.- Children's entertainer Brighton and Hove – Glitter Disco party in Brighton, East Sussex, Children's entertainer and magician East Sussex, – Children's party entertainment Lewes – Children's party entertainer Woodingdean and Peacehaven – Children's entertainer Eastbourne and Polegate, Children's party entertainer Cuckfield – Princess parties East Sussex, themed Brighton, Hampshire, Brighton, Worthing, Eastbourne, Crawley, Burgess Hill, Haywards Heath, Horsham. Fairy Party Brighton, Fairy Party Hove, Fairy Party Horesham, Fairy Party Crawley, Fairy Party Lewes, Fairy Party Ringmer, Fairy Party Sussex, Pirate Party Petworth, Pirate Party Grinstead,Snow Queen, Discos, Pirate Party, Princess Parties, Circus Party, Fairy Visits, Under 4's Party Entertainment, Children's party, Different party entertainment, bespoke party entertainment London, Pirate Party Three Bridges, Mermaid Party Polegate, Mermaid Party Eastbourne, Fairy Party Eastbourne, Fairy Party Polegate, Fairy Party Rottingdean, Fairy Party Worthing, Pirate Party Lewes, Pirate Party Ringmer, Pirate Party Crawley, Pirate Party Brighton, Pirate Party Hove, Halloween Party Eastbourne, Halloween High Party Polegate, Halloween Party Petworth, Halloween Party Hove, Halloween Party Crawley, Childrens Entertainer Brighton, Entertainer Shoreham, Childrens Entertainer Southwick, Childrens Entertainer Haywards Heath, Childrens Entertainer Burgess Hill, Childrens Entertainer Lewes, Childrens Entertainer Hove, Childrens Entertainer Crawley, Childrens Entertainer Eastbourne, Childrens Entertainer Horsham, Childrens Entertainer Sussex kids parties Brighton, Halloween Brighton, Halloween kids party Hove. Children's birthday party entertainer Hove, Shoreham-By-Sea, Worthing, Brighton and East and West Sussex – Kids entertainer West Sussex – Kids party in Sussex – Christmas parties and Children's Christmas party Shows, Brighton and Lewes, also Eastbourne. Children's party entertainers Sussex, Fairy party, fairy parties Brighton, Meet a real fairy! Our entertainers host parties for girls and boys with themed adventure story-lines and magical characters. Are you looking for a children's entertainer in Brighton, Hove or surrounds? We cover the entire of East and West Sussex. Are you looking for a special children's party with a difference? Felicity Fairy And Friends for Festivals, Kids Parties, Weddings, Schools,Nursery Parties and any events! Professional Children's Entertainers Brighton, Hove, Arundel, Littlehampton, Pet worth, Worthing. Christmas party, Easter Party, Queen's Birthday, Bank holiday entertainers Hove, Southwick, Portslade. Christmas party entertainers Sussex. Children's Christmas party entertainment for nurseries, play groups and schools in Brighton, Hove, Worthing, Lewes, Ringmer, East Sussex. Children's entertainment for Festivals, Council Events, Park Days, and Weddings in East Sussex. Children's Christmas party entertainment for playgroup and pre-schools in London, Children's entertainment for the school holidays in East and West Sussex. Worthing, Brighton and Hove children's parties. Children's party entertainment and workshops in London For Half term – Children's entertainment and workshops in Brighton. Children's entertainment for festivals from London to Cornwall. www.felicityfairyparties.co.uk and www.cirquedesfees.com for complete day and night festival entertainment. Felicity Fairy And Friends provide unique parties for kids including Birthday parties for girls in Brighton, East Sussex, themed parties for boys in Sussex, Toddlers parties and 3 year olds parties, bubble interaction for Toddlers with our party entertainers Brighton. Also covering East and West Sussex. Pirates or Knights and Princesses parties for Birthday parties for boys in Brighton, East Sussex. Girls and Boys 4 year old parties, 5 year old party ideas, 6 year old party entertainment Brighton, East Sussex, 7 year old party disco entertainment, Fairy Disco Themed party in Brighton, East Sussex. Children's party entertainer Hove, Children's party entertainer Chichester, Children's party entertainer Upper Beeding. Children's entertainer Lindfield, kids party entertainers in Bolney – Children's party ideas in Hove and BN1. kids adventure and magically themed parties. Fairy, Pirate, Mermaid, Pixie party kids parties Brighton, knights and Princesses themed parties Brighton and Hove, Children's entertainer in Tunbridge Wells, Children's party entertainer in Hassocks, Haywards Heath. Children's princess party entertainment Hurstpierpoint, Children's party entertainer Ditchling, Sussex. – Children's party entertainer Heathfield, Children's party entertainer Crowborough, Children's entertainer Seaford and Peacehaven, Children's party entertainer Littlehampton – Children's party entertainer Ringmer, East Sussex, Children's fairy parties Surrey, Children's party entertainer Bexhill, East Sussex, Kids party entertainer Hastings, Children's parties for girls in East Sussex Children's parties for girls in Worthing, West Sussex – Children's parties for girls in Crawley –