Hosted by Santa's Elves 
For up to 30-50 children,  aged 3-8 years
Santa's Elves have been busy in his North Pole workshop making toys for his Christmas deliveries,  but unfortunately some naughty goblins have snuck in and stolen one of the toy boxes! What are the elves going to do?  Luckily they were on their way to a Christmas Party in People-land.  Maybe the children there can help? A story-line based party unfolds with a pantomime intro,  craft activity,  games and climatic action packed treasure-chase!
A Magical Christmas Adventure For All The Family!
We invite all of the family to be involved in this Festive party plan!   We know Mum's are usually occupied,  being the gorgeous event hostess,  but it's wonderful when they arrive in seasonal costume.  Older brothers and sisters can be the Elves special helpers,  assisting with the craft activity and helping to cast the goblin catching Magic Spell.  There is also a staring role for enthusiastic dads and crazy uncles –  playing the part of the goblins!  We ask them to hide somewhere with Santa's toy box and be prepared to pop up at the right time and be chased all over the venue by spell casting children.
Suitable for * Schools  * Corporate Events and Businesses  * Community Groups
This party is available in two sizes: A male and female entertainer to bring Christmas Magic to up to 30 children; or for larger groups book the super-sized version hosted by three entertainers and catering for up to 50 kids.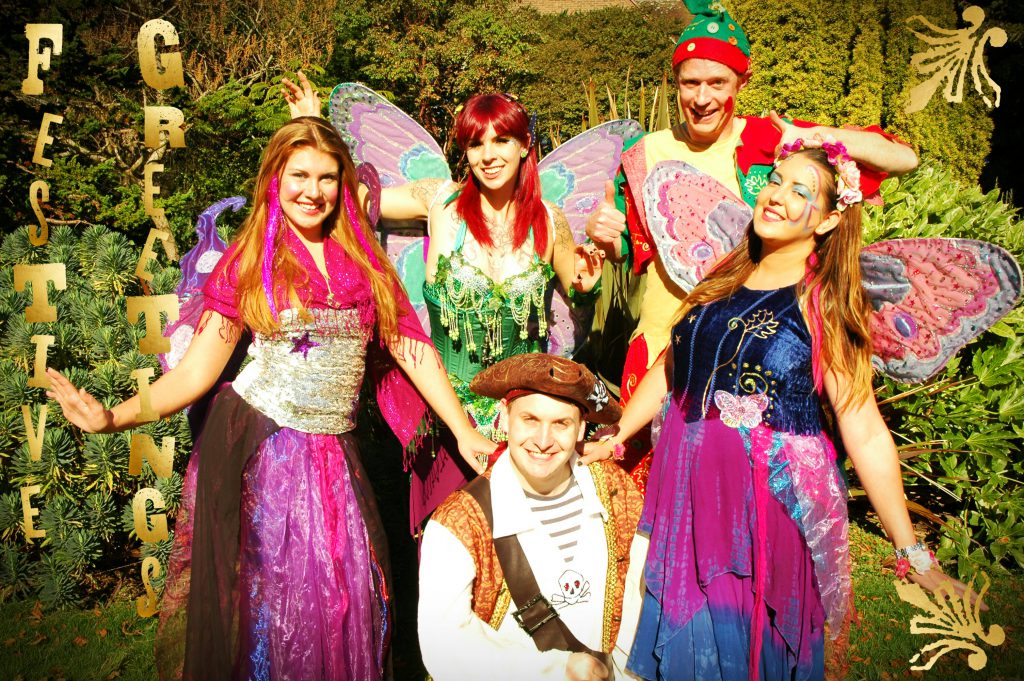 Santa's Elves Christmas Party Includes:
Wish Granting and Bubbles
Pantomime-style Introduction
Pass-The-Parcel
Magic Wand Making
Musical Statues Or The Chocolate Game
Magic Spell
Toy-Box Goblin Chase
Small Gift From Santa's Toy Box For Each Child
Christmas Tea Break
Arrangement Of The Guests For Your Group Photograph
Our entertainers bring everything they need: pass-the-parcel, games, sweets, stickers, craft materials and a treasure box containing a small prize for each child.  We can also provide a portable music player.
Our Requirements
Two chairs
Power point for the music system
A dry venue:
INDOORS: We recommend old wooden or brick halls as they tend to have better acoustics than newer ones built with vinyl materials. If the venue has an outdoor area we will use this for the climatic treasure chase at the end of the party.  See our 'Best Venues' guide for more details.
OUTDOORS: Christmas in the UK is not the best time for outdoor parties as children will wear flimsy pretty party costumes and the weather is unpredictable!   If you decide to use a  marquee or barn as a focal point for the entertainment,  please make sure it is heated and waterproof,  with sufficient flooring so the damp doesn't come through,  as the children will be seated for much of the party. Please make sure you have a back up plan in case of storm or high winds.
AT HOME: If you have a large living room or conservatory then yes,  we are happy to host the party in your own home. Please contact us for a chat.
Felicity Fairy and Friends ph: 0777 922 0729
or pop us an email: info@felicityfairyparties.co.uk

Our Santa's Christmas Elves themed party is available in:
Croydon,  Epsom,  Weybridge,  Caterham, Guildford,  Woking,  Farnborough,  Backwell,  Reading,  SOUTH LONDON AND SURREY; Brighton, Hove, Lewes, Shoreham, Crawley, East and West Grinstead, Chichester, Horsham, Forest Row and SUSSEX; Bristol, Bath, Taunton, Bridgewater, Yeovil, Wells, Frome, Western-Super-Mare, Nailsea and SOMERSET; Portsmouth,  Gosport,  Southampton, and HAMPSHIRE  Christchurch,  Bournemouth,  Poole,  Wimborne,  Blandford,  Ringwood,  Corfe,  DORSET Kingswood, Thornbury, Lynne,  Stroud,  Gloucester  and SOUTH GLOUCESTERSHIRE; Maimesbury, Chippenham, Trowbridge, Swindon,  Salisbury, WILTSHIRE