Hosted by a Fairy and a Pixie
For up to 30 children,  aged 3-7 years
Our Pixie was bringing a glittering box of REAL Fairyland treasure to the birthday party… but on the way he was ambushed by Goblins!  They tickled him,  and while he was laughing they ran away with the treasure box. The Fairy and Pixie now need the help of our birthday child,  and their friends.  Can they get the treasure back?
This is the party we are famous for!
Our most popular party,  the Goblin Treasure Hunt is suitable for both girls and boys; and is often booked for brother and sister shared birthdays. Designed to encourage kid's vivid imaginations, it features a magical adventure story, in which our Fairy and Pixie regularly stop and ask the children what to do next. Each activity is another party of the story-line leading to a climatic conclusion! This party takes children right into the heart of Fairyland so we suggest they come along in fancy dress to blend in!

The Goblin Treasure Hunt Includes:
Wish Granting For The Birthday Child
Pantomime-style Introduction
Pass-The-Parcel
Magic Wand Making
Musical Statues Or The Chocolate Game
Magic Spell
Treasure Chase
Birthday Child's Crowning Parade
Birthday Tea Break
Cake Ceremony
Arrangement For Your Group Photograph
Our entertainers bring everything they need: pass-the-parcel, games, sweets, stickers, craft materials and a small prize from the treasure box for each child.  We can also provide a portable music player.
Our Requirements:
One or more Birthday Children
Two chairs
Power point for the music system
A dry venue:
INDOORS: We recommend old wooden or brick halls as they tend to have better acoustics than newer ones built with vinyl materials. If the venue has an outdoor area we will use this for the climatic treasure chase at the end of the party.  See our 'Best Venues' guide for more details.
OUTDOORS: A park or garden makes a beautiful Fairy Glade.  We recommend a marquee or gazebo as a focal point for the entertainment,  as this keeps the children's attention. Most importantly have a wet weather back up plan! Please have a room nearby prepared,  as even in summer the British weather is unpredictable.
AT HOME: If you have a large living room and/or garden then yes,  we are happy to host the party in your own home. Please contact us for a chat.
Felicity Fairy and Friends ph: 0777 922 0729
or pop us an email: info@felicityfairyparties.co.uk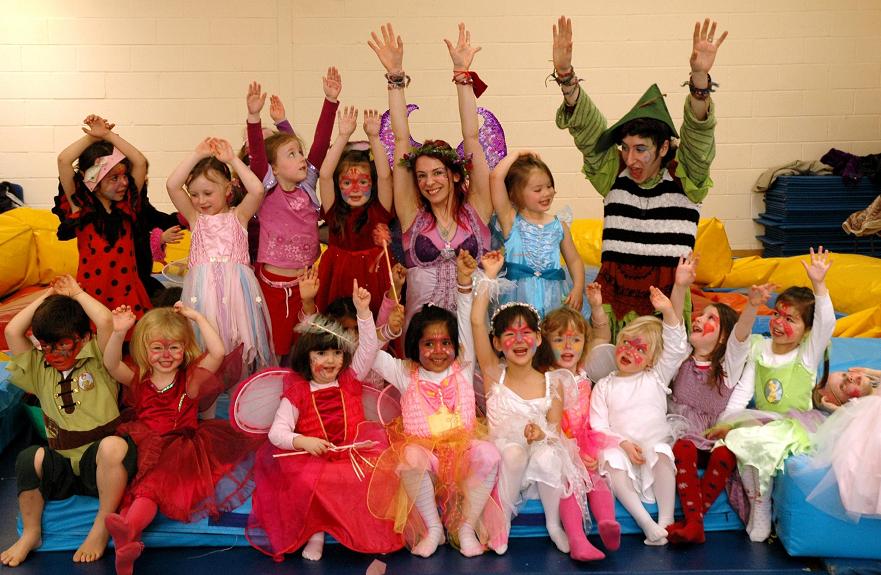 Our Goblin Treasure Hunt themed party is available in:
Croydon,  Epsom,  Weybridge,  Caterham, Guildford,  Woking,  Farnborough,  Backwell,  Reading,  SOUTH LONDON AND SURREY; Brighton, Hove, Lewes, Shoreham, Crawley, East and West Grinstead, Chichester, Horsham, Forest Row and SUSSEX; Bristol, Bath, Taunton, Bridgewater, Yeovil, Wells, Frome, Western-Super-Mare, Nailsea and SOMERSET; Portsmouth,  Gosport,  Southampton, and HAMPSHIRE  Christchurch,  Bournemouth,  Poole,  Wimborne,  Blandford,  Ringwood,  Corfe,  DORSET Kingswood, Thornbury, Lynne,  Stroud,  Gloucester  and SOUTH GLOUCESTERSHIRE; Maimesbury, Chippenham, Trowbridge, Swindon,  Salisbury, WILTSHIRE