Deluxe Themed Party
Maximum 16 children
Aged 7-10 years
Fall down the rabbit hole into the enchanting world of Alice and follow her adventures in Wonderland.  For children who are already familiar with the books,  this party will make them 'curiouser and curiouser' as themed activities help them become part of the story themselves. Guests are invited to dress as their favourite character,  and act out sections of the books. Our deluxe  'Alice In Wonderland'  party has a very special Victorian feel,  with a china tea set game, mini top hat fascinator craft activity, and a hand-made sweet shop prize for each child.
Enjoy Lewis Carroll's famous poem 'Jabberwocky'
performed by your children!
At Felicity Fairy Children's Entertainment we specialise in parties with a hand-made feel,  in which each activity has been prepared with your child in mind. Our deluxe Alice In Wonderland party goes one step further.  Our actress will arrive with her party games packed into an old fashioned picnic hamper,  and carrying a music player with Alice in Wonderland and period  themed tunes. This party features a very special mini top-hat decorating activity,  in which each unpainted hat has been carefully crafted out of recycled materials by our entertainer.  And the climatic 'Mad Hatter' s Tea Party Relay Race' will feature a classical mismatched china tea set.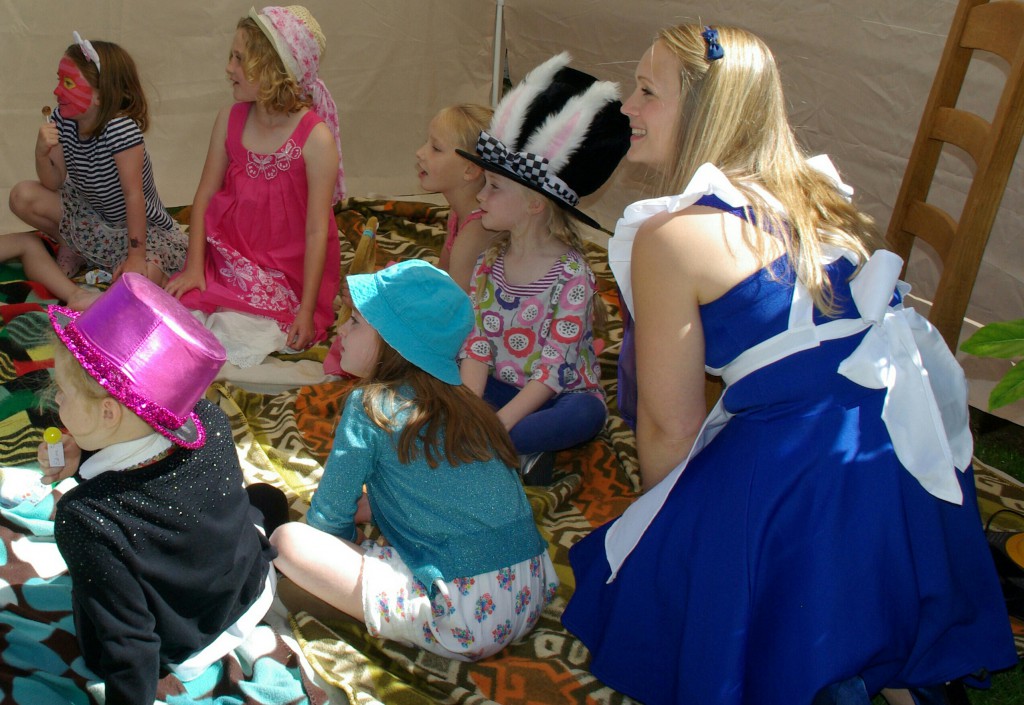 "Why, sometimes I've believed as many as six impossible things before breakfast." 
― Lewis Carroll, Alice in Wonderland
Our Alice In Wonderland Party Includes:
Bubble Play Introduction
Reading And Performance Of 'Jabberwocky'

Pass-The-Parcel

Playing Card Guess Who
Decorating Mad Mini Top-Hats
Tea Party Relay Race
Prize Giving
' Queen Of Wonderland' Crowning Parade
Birthday Tea Break
Cake Ceremony
Time To Take Photographs With Our Entertainer
Our entertainer will bring everything she needs, including  'Jabberwocky' storybook,  pass-the-parcel,  sweets and stickers for each child, craft materials,  giant playing card game, old fashioned sweet-shop prizes, and her special china tea set; all packed into a classic picnic hamper.