Hosted by a Pirate Captain

For up to 15 children of 3-7 years, 2 hours
Arrrggggghhhhh me hearties! Would you like to hear some real ships tales from the seven seas? Meet our Pirate Captain, who has dropped into your birthday party while his ship is docked nearby. While she hosts party games and has a little fun – can ye be on the look out for her talking Parrot? Only the parrot knows where to find the Captain's missing treasure map! Can ye give her some help? Make a wish on the gold dust from the Captain's chest and prepare for an adventure!
Bring the seven seas to your own home!
Avast! Our Pirate Captain's are played by professional actors and comedians who will bring the salty magic of the oceans into your chosen venue, be it home or a hired hall. Both girls and boys will enjoy tales of adventure, along with exciting games, craft activities, sword fighting (invisible swords only!) and a real Treasure Hunt! Buckle on ye sturdy boots and take out ye Jolly Roger for two hours of seafaring fun!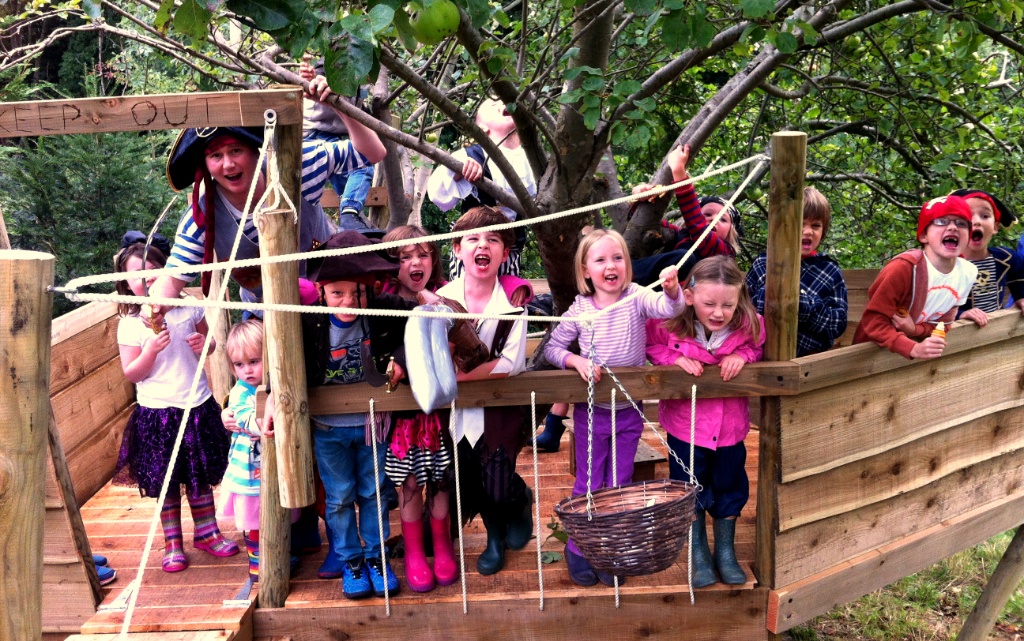 The Swashbuckling Story Glade Includes:
Gold Dust Wish For The Birthday Child
A Pirate Story With Actions
Pass-The-Parcel
3D Parrot Making
Duck,  Duck,  Goose,
Parrot Food Dance
Swordfight
Treasure Hunt
Birthday Child's Captain's Parade
Birthday Tea Break
Cake Ceremony
Group Photograph
Our entertainers bring everything they need: pass-the-parcel, games, sweets, stickers, craft materials and a treasure box prize for each child.  We can also provide a portable music player.
Our Requirements:
One or more Birthday Children
A chair for the Pirate Captain
Power point for the music system
A dry venue:
INDOORS: We recommend old wooden or brick halls as they tend to have better acoustics than newer ones built with vinyl materials. If the venue has an outdoor area we will use this for the climatic treasure chase at the end of the party.  See our 'Best Venues' guide for more details.
OUTDOORS: A park or garden makes a fantastic ship's deck.  We recommend a marquee or gazebo as a focal point for the entertainment,  as this keeps the children's attention. Most importantly have a wet weather back up plan! Please have a room nearby prepared,  as even in summer the British weather is unpredictable.
AT HOME: If you have a large living room and/or garden then yes,  we are happy to host the party in your own home. Please contact us for a chat.
Felicity Fairy and Friends ph: 0777 922 0729
or pop us an email: info@felicityfairyparties.co.uk
Our Swashbuckling Story Glade themed party is available in:
Brighton, Hove, Lewes, Shoreham, Crawley, East and West Grinstead, Chichester, Horsham, Forest Row and SUSSEX WIDE; Bristol, Bath, Taunton, Bridgewater, Yeovil, Wells, Frome, Western-Super-Mare, Nailsea and SOMERSET WIDE; Kingswood, Thornbury, Lydney and SOUTH GLOUCESTERSHIRE; Maimesbury, Chippenham, Trowbridge, Swindon and NORTH WILTSHIRE
AVAILABLE IN DORSET FROM MAY 2014