The Enchanted Story Glade
Hosted by your choice of  Fairy or Pixie
For up to 15 children, aged 3-8 years
Does your child write letters to the Fairies, mix-up magic potions in the back garden and love all things glitter and sparkles? Well not so far away,  in a place called Fairyland,  the Fairy Queen hears of these special children, and sends one of her friends out to visit them. Imagine the joy on your child's face when a real Fairy arrives in a sprinkling of pixie-dust,  to cast a spell of excitement and happiness on your child's special day!
Enchantment your child will remember for years to come
This is a very personal party in which each child gets a lot of individual attention and plenty of time for all of those magical questions such as 'how do you shrink back again?',  'how do you fly?',  'what do Fairies eat for breakfast?'. We are often asked if the party is suitable for boys as well.  Yes it is!  Our Fairy will describe her naughty best friend the see Pixie,  and little tricks and jokes he has arranged will appear throughout the party.  The boys just love this,  but you are also welcome to book our naughty Pixie to host the party himself!

 
The Enchanted Story Glade Includes
Wish Granting For The Birthday Child
Story About The Birthday Child
Pass-The-Parcel
Magic Wand Making
Musical Statues Or The Chocolate Game
Magic Spell
Treasure Hunt
Birthday Child's Crowning Parade
Birthday Tea Break
Cake Ceremony
Group Photograph
Our entertainers bring everything they need: pass-the-parcel, games, sweets, stickers, craft materials and a treasure box prize for each child.  We can also provide a portable music player.
Our Requirements:
One or more Birthday Children
A chair for the Fairy
Power point for the music system
A dry venue:
INDOORS: We recommend holding this party in a small hall, a barn,  or at home. The magic of this party is about the children being in a grotto with a real Fairy,  and this works better in a confined space rather than a large and echoing hall. If you are concerned as to the size of your living room,  imagine pushing all the furniture pushed to the edges and the children sitting in a circle on the floor. We recommend having a seperate area for parents if possible,  for volume purposes.
OUTDOORS: A park or garden makes a beautiful Fairy Glade.  A marquee,  gazebo or bell tent with blankets and cushions on the ground is just lovely.  Most importantly have a wet weather back up plan! Please have a room nearby prepared,  as even in summer the British weather is unpredictable.
Felicity Fairy and Friends ph: 0777 922 0729
or pop us an email: info@felicityfairyparties.co.uk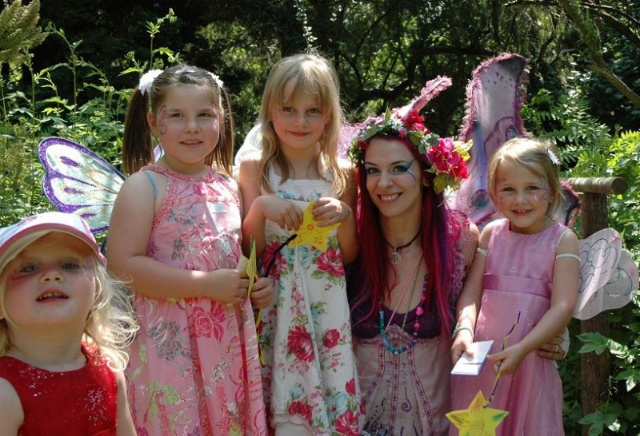 Our Enchanted Story Glade themed party is available in:
Brighton, Hove, Lewes, Shoreham, Crawley, East and West Grinstead, Chichester, Horsham, Forest Row and SUSSEX WIDE; Bournemouth, Poole, Weymouth and DORSET; Bristol, Bath, Taunton, Bridgewater, Yeovil, Wells, Frome, Western-Super-Mare, Nailsea and SOMERSET WIDE; Kingswood, Thornbury, Lydney and SOUTH GLOUCESTERSHIRE; Maimesbury, Chippenham, Trowbridge, Swindon and NORTH WILTSHIRE